Contact Center Services
S-squad Global Contact Centre Solutions (CCS) understands the importance of delivering cost-effective, world-class technical supports in an easy and efficient way for our customers to maximize their technology investments. We offer a full range of technical support, from tier-1 handling of simple and common issues to multi-tier support applications, employing seasoned technical experts to address the complex issues. From end-of-life support to complex technical support, our customers are realizing increased ROI and customer experience with improved in customer satisfaction (CSAT) scores. Scalable 24x7 technical support that adapts to demand fluctuations without impacting the bottom line. Consistent customer management across different product lines and technologies.
On-Site Support Services
S-squad Global On-site Support Services (OSS) provides on-site Installation & maintenance of all technology & Electronic Products in Consumer as well as Business Environment (B2B) with end to end call management with on demand service Delivery with various response levels to choose from forClients. If you ever face any hardware failure or network issue, contact us for our Engineer for onsite Support who would be available at your location eliminating long waiting hours and help you close your trouble faster. The Onsite Team of engineers has been carefully selected to provide best support services.
Break fix Services
S-squad Global expertise in Break-Fix Services enables us to deliver SLA based services for most leading brands.
Networking
Cisco All models
Juniper All models
3com All legacy products
Dell
Dell PowerEdge Servers
Dell PowerVault Storage
Dell PowerConnect Switches
IBM
P Series
I Series
Enterprise Storage Systems
IBM Tape Libraries
NetApp
FAS
F Series
R Series
IBM Branded Filers (N series)
EMC
VNX
Clariion
Celerra
Connectrix
Oracle/Sun
SPARC Servers
Sun Fire Servers
SPARC Enterprise M Servers
SPARC Enterprise T Servers
Sun Fire V Servers
Sun Fire X Servers
Sun Netra Servers
Sun StorEdge Arrays
Sun Tape Libraries
HP
Intergity
ProLiant
HP 9000
AlphaServer
HP 3000
Storage Systems
Remote Technical Support Services
Ssquad takes pride in the server support features presented to our customers in providing fast and effective support by enacting the role of an Overseas Extended Outsourced Web Hosting Support Team at a reasonable cost.

Ssquad is bound to deliver what it promises to our customers. We ensure the support promise of One hour response and Six hour resolution using Time Management Tools and the resolutions are pushed to the Quality Management System for the systematic verification. We operate 24/7 catering to the needs of our global customers serving and meeting best of their interests with a performance guarantee.
Features:
24/7 Support
24/7 Monitoring
Over 5 Years of Technical and Management History
Support for All Major Operating Systems
Support for Servers With and Without Control Panels
Unlimited Trouble Tickets for Featured Plans
Qualified and Certified Engineers
High Quality Responses
Securely Stored Customer Information
Support Covered by Service Level Agreement and Non Disclosure Agreement
Ssquad Monitoring Tool
One Platform Manages Everything
Ssquad's all-in-one solution makes it the perfect platform for consolidating your existing IT monitoring tools. Reduce operational expense and eliminate silos of IT information.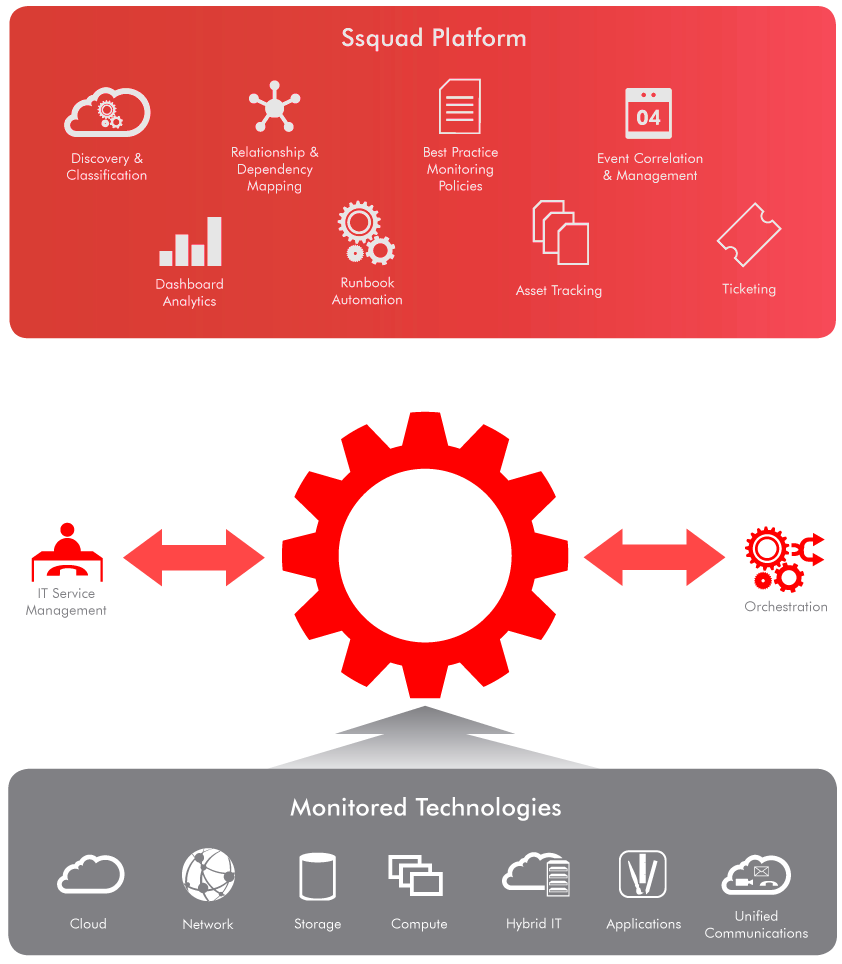 Service Assurance for Any Technology, Any Vendor, Anywhere
IT service assurance is hard. Especially across complex IT infrastructures. There's too many vendors and technologies. Throw in hybrid cloud, SDN, containers, microservices… it's daunting.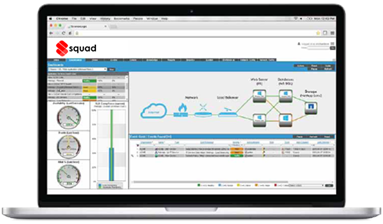 Ssquad makes IT service delivery easy. It's more than just an IT monitoring tool. Auto-discover IT assets, visualize dependencies, correlate events, enable automation, and more. All from a single platform.
Finally, you get a unified view of service delivery across your IT infrastructure, on-prem and in the cloud. No need to stitch together disparate tools or modules. It's a single product for managing the performance of your entire stack—networks, compute, storage, and applications.
Software Development
Custom software development at Ssquad Group is about delivering exceptional results that boosts your business value and ROI. Our collaborative approach across organizations fosters creative thinking that delivers results. Our projects resides with enterprise-level leaders in financial services, manufacturing and technology.
Development Process
Ssquad offers Custom software application development services to develop custom-made software applications that are built to fit in your environment with minimal disruption to the existing infrastructure.We get involved in end-to-end solutions development and developing intermediate solutions which binds with your system.

Ssquad uses an Agile Scrum approach , which makes us understands the changes in businesses and evolve accordingly. This allows us to adapt throughout the project, giving our clients and their projects a competitive edge.
Development and delivery
Ssquad's development and delivery methods ensures successful on-time and on-budget delivery of your software. We work in weekly sprints, allowing you access to a staging environment where you will perform acceptance of your continuous integration with the existing system.
Platform and Technologies
Php / MySQL
HTML5/CSS3
Javascript / NodeJS / Angular / Laravel etc
All Legacy Frameworks